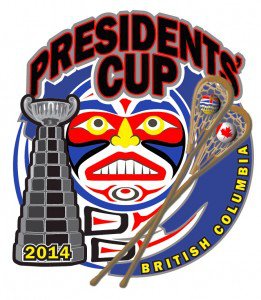 January 3rd, 2014 by Stephen Stamp - ILIndoor.com
The Presidents Cup is headed to the West Coast. The 2014 edition of the Canadian Lacrosse Association Senior B championship will be held in Coquitlam, with the Tri-City Bandits serving as the hosts. Coquitlam is one of the three cities that comprise the Tri- City area, along with Port Coquitlam and Port Moody. The Bandits actually play out of PoCo. The tournament is slated for August 25-31. The tournament's organizing committee points out that all three communities have strong box, field and school lacrosse programs, making the area one of the hot beds of the game.
"In 2013 the Bandits won their sixth straight provincial title and look forward to get a chance to compete for a national title on their home turf," says Bandits Team President Randy Clough. "A very strong organizing committee is looking forward to host an outstanding, memorable event for both spectators and participants. All games will be webcast and play by play lead Jake Elliot will be on hand to announce most games during the week. The recently renovated Poirier Recreation and Leisure Center is the perfect venue for this event; it is also home of The Coquitlam Adanacs from the WLA and the 2010 Minto Cup was also played here.
The OLA's St. Catharines Saints won the 2013 Presidents Cup after having finished third and then second in the two previous years, in both of which the tournament was won by the St. Regis Braves from the Three Nations Lacrosse League.