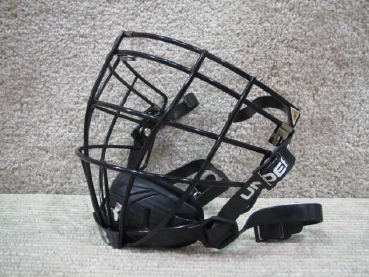 The CLA is pleased to announce that, effective June 10, 2014 the Under Armour CLA Mask has been approved by the CSA and is therefore permitted for use per CLA policy 12.4.2.
Please note that the Under Armour CLA Mask is a Type C mask and therefore a full-face protector intended for use by persons playing in the senior age category, other than goalkeepers. A list of the helmets with which the mask is approved is below:
Helmet Models

UA CLA Mask

(JR.)

UA CLA Mask

(SR.)

Bauer

BHH4500 (S)

x

BHH5100 (S)

x

IMS11.0 (S)

x

BHH4500 (L)

x

BHH5100 (L)

x

IMS11.0 (L)

x
For more information on where to purchase this facemask, please visit the Under Armour Canada website.
Please be reminded that there are three helmet options for a Lacrosse player to use:
1. Field Lacrosse Helmet NOCSAE approved;
2. CSA approved Hockey Helmet and CSA approved Hockey facemask Combo;
3. CSA approved Hockey Helmet and CSA approved Lacrosse facemask Combo.
There are currently four CSA approved facemasks for lacrosse:
1. Under Armour CLA Mask (in size Jr & Sr)
2. Marty O'Neill MX-13 Senior & Youth
3. OTNY Junior & Senior mask
4. Gait G7 Senior & Junior
Note: Equipment that violates the specifications contained in this bulletin will be removed from the game and, where required, appropriate penalties will be given.
For more info on equipment from the CLA, please visit the equipment section of our website.
Should you have any questions in regard to this bulletin, please contact the CLA Office at info1@lacrosse.ca or 613-260-2028 x. 301.
Enjoy the game and play safe.